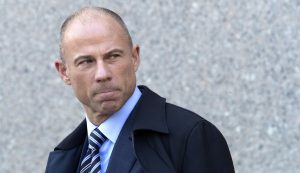 The law firm of Stormy Daniels' attorney Michael Avenatti was hit with a $10-million judgment recently in U.S. Bankruptcy Court after he broke his promise to pay $2 million to a former colleague. According to news sources, Judge Catherine Bauer of U.S. Bankruptcy Court in Santa Ana ordered Eagan Avenatti to pay the $10 million to Jason Frank, a lawyer who used to work at the Newport Beach firm.
"At this point, that's what's appropriate," Bauer said at a brief hearing.
To settle his law firm's bankruptcy, Avenatti personally guaranteed in December that it would pay Frank $4.85 million. But he and Eagan Avenatti failed to pay the first $2 million installment that was due last week, triggering Tuesday's judgment. The firm is also delinquent on $440,291 in back taxes, penalties and interest that Avenatti promised would be paid last week, Assistant U.S. Atty. Najah Shariff told the bankruptcy judge.
When asked about the situation by The Los Angeles Times, Avenatti claimed it was "Irrelevant," and "Over blown."
According to the Times, "Avenatti's tax troubles date back nearly a decade. His unpaid 2009 and 2010 income taxes led the IRS to put a $904,000 lien years later on all of his personal property, Orange County records show."  Even in a clear-cut case like this, Avenatti still maintains it was some sort of error that led to his breaking of the promise to pay his former colleague. 
More proof that we just don't see the same world the same way and thus…disputes are everywhere. And when they affect YOUR business, (especially contract matters, landlord/tenant disputes and even collections and bankruptcies) call in the litigator for the good guys, Dean Sperling who will work to resolve YOUR matter with YOUR best interests in mind
 
More on the case:
Law firm of Stormy Daniels' attorney hit with $10-million judgment